The stunning, 14K gold rings found on JewelryVortex can be shipped within two to five business days. This efficient turnaround has helped thousands of customers reach important holiday, birthday and anniversary deadlines. Last minute shopping is inevitable for some people. Even with the help of post-it notes and string-wrapped fingers, buying a gift on time in impossible. If you are prone to browsing at the eleventh hour the Internet could prove very beneficial.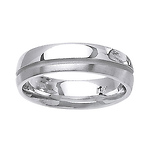 To view our entire collection click on 14K Gold Rings or if you have any questions contact us Toll-Free at 866-808-0404. One of our customer service representatives will answer any questions you might have.
The Widest Collection of 14K Gold Rings and Other Jewelry
Birthdays, Valentine's Day and the December holidays always seem to sneak up on people. Too much procrastination and the shopping malls are picked over leaving behind last season's styles and returns. Others have taken the lazy road and opted to purchase gift certificates for friends and loved ones. Luckily there is a better way. At JewelryVortex, our in-stock collection of 14K gold bands and other jewelry never wavers. Our wholesale providers keep our inventory stocked to the brim with all the latest fashion trends. Our customers can visit our site any time throughout the year and repeatedly take advantage of our one-of-a-kind jewelry and factory direct pricing.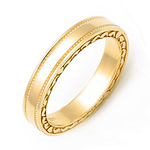 Our efficient shipping methods further add to the convenience of online shopping at Jewelry Vortex. Each of our 14K gold rings , diamond pendants and wedding band collections can be shipped anywhere in the United States and to other international locations. To further improve your online shopping experience, shipping charges are waived for orders exceeding 100 dollars. There is finally an answer to procrastination--it is online shopping at Jewelry Vortex.
The benefits and advantages of shopping online at Jewelry Vortex are undeniable. First we offer a wide selection of merchandise encompassing white and yellow gold, gemstones, chains, loose diamonds and more. Next, we provide our customers with access to factory direct pricing which at times can be 50 percent of the retail price. Then there is the free shipping on purchases over $100, not to mention the 30-day money back guarantee if for any reason you are unsatisfied. Whether you are looking for a designer watch or 14K gold rings, Jewelry Vortex is the Web's number one resource for affordable fine jewelry.