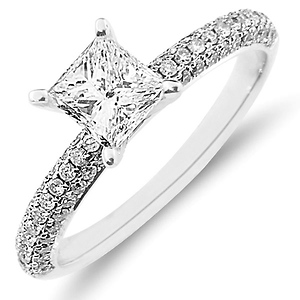 Before buying diamond jewelry, know what are the Four C's of diamonds mean to determine the quality and affordability of diamonds. Most of us have heard about the four C's of diamond buying but might not know what it means. The reality is shopping for a diamond is fairly simple if you understand these basic rules of choosing a diamond. Diamonds are defined by four different characteristics known as the four C's, which refer to the following:

When shopping for diamond jewelry, the diamond characteristics will have certain codes or descriptions to describe the quality of those features. Let's look at the four C's in detail.

Cut
The cut of a diamond refers to the way angles are cut into the diamond to reflect light. When they are unearthed diamonds are in an imperfect condition and are usually shaped and polished in order to become both shiny and attractive. Diamond cuts should not be confused with diamond shapes, which is an entirely different manner. Common diamond cuts are brilliant cut, princess cut, and emerald cut diamonds. Other distinctive diamond cuts for engagement rings include cushion cut, radiant cut, and asscher cut engagement rings. Round brilliant cut diamonds tend be the most traditional, and princess cut diamond engagement rings and other jewelry are generally the more affordable choice as they involve less intricate cutting.

For more information on diamond cuts, click on Diamond Cut Styles to check out our guide and help you decide which one to get for your diamond engagement ring, stud earrings, and other diamond jewelry.

Clarity
Clarity is all about the measurement of any internal defects found in the diamond. These defects are commonly known as inclusions. Inclusions can be minute cracks which have a cloudy or whitish look, or they can be crystals of a foreign matter. Clarity can also be impacted by the number, size, color, orientation, and visibility of these inclusions. The number and quality of diamond inclusions are described through the following codes:

The less flaws a diamond has, the more expensive it will be. A good, affordable range will be diamonds that have clarity between VS1 - SI2.

Color
Diamonds come in a variety of colors, and white diamonds are the most common, especially for diamond engagement rings. The best quality, and the most expensive, white diamonds are virtually transparent and will show little to no colors or shadows that will detract from the appearances. The reality, however, is that nearly every diamond will have at least minor imperfections which can influence its value either up or down. Even with imperfections, however, diamonds are rated on the basis of the quality of that color. For example, a white diamond with a yellow hue is valued less than a diamond that has a striking pink or blue hue. Unlike white diamonds, colored diamonds are more rare and are, thus, more expensive. The more vibrant the color, the more the colored diamonds will cost. If you are looking for white diamonds, remember that the less color they have, the higher the quality and price whereas the opposite is true for colored diamonds.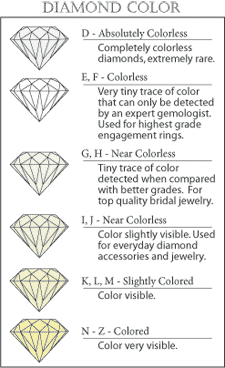 Carat
The carat weight refers to the mass of the diamond. One carat equals 200 mg. The price per carat is determined by carat weight, and the price increases exponentially the larger the diamond becomes.
The combination of the four C's is what helps to determine the price and the value of any particular diamond or diamond ring. A very large but highly imperfect diamond will be valued less than a smaller yet more perfect diamond. All buyers should consider the four C's of diamond buying before making any diamond purchasing decision.
Have any other questions or concerns on buying jewelry? Call our jewelry experts at JewelryVortex.com toll free at (888) 517-3777 Monday - Friday, 10am-4pm PT or click here to email us anytime.