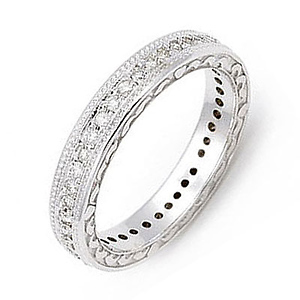 Anniversaries signify your long time devotion to each other, and anniversary bands symbolize that commitment best. Anniversary rings, a.k.a. as eternity bands, consist of diamonds or other precious gemstones encircling the whole ring. However, other types of rings can be used to celebrate your anniversary.
JewelryVortex offers you a wide choice on anniversary jewelry and is the best online jewelry company where you are able to make a choice from our latest selection of anniversary rings and bands at affordable prices to celebrate your anniversary. Our prices are as low as 50% of all other retail prices, so you can purchase your jewellery at retail prices.
We are here to offer you the best solution concerning anniversary bands. The big anniversary day should not be a problem to think about-- we are just a phone call away, and you can purchase all your jewelry products online. Both you and your partner can look elegant and smart on your anniversary day, and celebrate it in style. We are here to make online purchasing easy for you.
Once you purchase any JewelryVortex diamond anniversary ring, we ship it to any part of the United States. You get free shipment services if you purchase any product of over $100. Upon purchasing, shipping can take two days to five days, so you do not have to wait long to pick it up because our shipping methods are very efficient and reliable.
We care about your needs are here to make online purchasing easy and convenient for you. Call our toll free number on 866-808-0404 or visit our website on www.jewelryvortex.com to view all of our fine jewelry.