Proposing to someone is a big step in life as you are deciding to spend the rest of your life with that partner. It is always helpful if you can find a jewelry store that can offer you a quality, yet cheap engagement ring if you are on a tight budget.
Cheap engagement rings have the same exquisite quality, durability, and beauty as other rings. The only difference is that it has a more affordable price than others. Jewelers, such as JewelryVortex, that have lower overhead costs pass on the savings to their customers. An engagement ring can come in many different designs that are unique and special in their own way. They are made by a trusted manufacturer that only uses the best quality materials so you can be sure that your purchase is one of high standards. The materials used in the creation of any ring can be gold, silver, white gold, platinum and even titanium, this being a popular choice in male rings. These lovely rings can also be encrusted with diamonds, sapphires, pearls or any other precious gem stones. Your jeweler should also be able to give you fantastic advice on how to take care of your ring.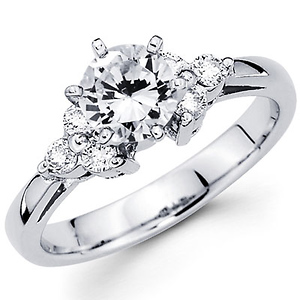 When you purchase a cheap engagement ring you can also choose a design that contains your partner's birth stone. Another popular choice today is having a two tone ring that is made with two precious metals such as gold and silver. Many people just prefer an engagement ring to be simple yet elegant and this is also available at many jewelry stores. If the jewelry is of good quality the store should always have some sort of return policy where if you aren't satisfied with your purchase you can return it. Another great thing about an engagement ring is that if it doesn't fit it can be adjusted to your partner's finger. Having a piece of jewelry in the family also means that you are able to someday have a family heirloom so in a few years you can get an appraisal on it so you and your partner have the option of knowing how much the ring is worth.
Jewelry Vortex can offer you a cheap engagement ring to start off a beautiful engagement. They also sell many other fine pieces of jewelry at very affordable prices. They have also developed a very useful website for you to make purchases from the comfort of your own home. When you purchase a ring from Jewelry Vortex you also get free shipping, a free gift box and a thirty day return policy. To make the ring extra special this company also gives you the option of engraving the ring with a special message and they will do it for free as well.
If you would like more information or would like to place an order for one of their stunning jewelry pieces, call us toll free at 1-866-808-0404, or visit us at www.jewelryvortex.com.