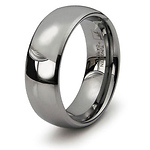 Deciding to get married is a big step, and when that special day comes you and your partner want everything to be perfect. A wedding can sometimes cost a fortune, and since wedding bands are a special part of the ceremony, consider cheap wedding bands - "cheap" on price yet has superior quality and durability.
Cheap wedding bands are a beautiful symbol of love, affection, and commitment and reflect your own personal style. JewelryVortex has a wide variety of designs, making it easier to find the perfect set for you and your partner. Our fine wedding band collection are made with gold, white gold, two tone gold, tungsten, and titanium. We also carry more expensive wedding rings in platinum and more gold. Our cheaper-priced rings come in all different shapes and sizese. We get all of our materials from trusted suppliers to ensure that our customers get high quality, authentic gold wedding bands. These lovely bands can come plain and simple or encrusted with precious stones such as diamonds, sapphires, rubies, pearls, or other precious gemstones. If looking for other unique designs, browse through our hand braided wedding rings, seamless rings, or rings that have a fancy design.
If you are looking for cheap wedding bands that have a special meaning, consider wedding rings with your birthstone. Also, when deciding to buy your wedding rings from you, feel assured that all of our jewelry comes with a 30-day return policy. A well known jewelry store that sells lovely cheap wedding bands is JewelryVortex. They have also developed a useful website where you can view their whole range and make a purchase online.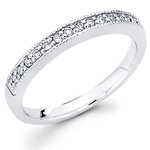 JewelryVortex offers you cheap wedding bands that are of good quality and will be symbolizing love and commitment between you and your partner for years to come. When you purchase a piece of their jewelry they offer free shipping, a free gift box and a thirty day return policy so you can have some peace of mind. A special gesture is to engrave your wedding bands with something meaningful for you and your partner to look back on and smile. JewelryVortex is also offering free engraving with any purchase.
So if you and your life partner would like to sit in the comfort of your own home and make a purchase together for your big day then you can visit their website which is www.jewelryvortex.com. You can also contact them on their toll free number which is 1-866-808-0404 for any queries you might have. Make the perfect choice and choose cheap wedding bands from JewelryVortex today to make your special day simply wonderful!
Browse Gold Wedding Bands Under $250