The couple rings at JewelryVortex are all hand-crafted from the finest precious metals and detailed with quality gemstones. Our wide selection of in-stock sizes helps ensure on-time delivery of your fine wedding jewelry purchase. For finicky shoppers, JewelryVortex offers unique wedding band collections that can not be found elsewhere on the Web or in traditional jewelry stores. If you are seeking affordable, beautiful jewelry you've come to the right place.
To view our entire collection click on Couple Rings or if you have any questions contact us Toll-Free at 888-517-3777. One of our customer service representatives will answer any questions you might have.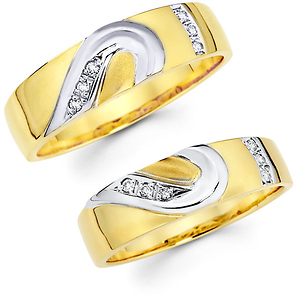 Our selection of bands includes ornate designs cast in yellow or white gold. Each set of rings for couples is available in men and women's sizes from five to fifteen. Most of these sizes are in-stock and available for shipping in five business days. Even if you've waited till the last minute to purchase the wedding rings, rest assured JewelryVortex will supply you with a beautiful set in record time.
Distinctive Couple Rings
Each marriage is unique. The woman brings certain qualities to a marriage as does her partner. It is the individuality of the marriage that helps create a strong and long-lasting bond. These same qualities are reflected in our hand-made wedding band sets. The design and detail of these sets is unmatched anywhere in the industry. Likewise the quality and price of our merchandise is unavailable at other online jewelry stores or traditional in-store environments.
The Internet provides certain benefits to shoppers that traditional stores can not compete with. While the process of Internet shopping can be somewhat of a "hands-off" environment, JewelryVortex compensates by providing our customers with additional advantages and benefits. By ordering a set of wedding bands from JewelryVortex, buyers can take advantage of our 30-day guarantee. Use the first month to evaluate the quality, beauty and price of your purchase. The merchandise can be returned at any point during the first 30 days for an exchange or a full refund.