At Jewelry Vortex, we have a solution for looking smart and elegant at very low prices. Buying a cubic zirconia ring is the perfect alternative to paying for genuine diamonds, without having to sacrifice on your style. Our fine female and male zirconia ring collection includes 3-stone rings, eternity bands, and much more! Cubic zirconia (CZ) rings are the best substitute for genuine diamonds that your friends and acquaintances will never detect. You can save up to 90% from buying a genuine stone and still maintain your image.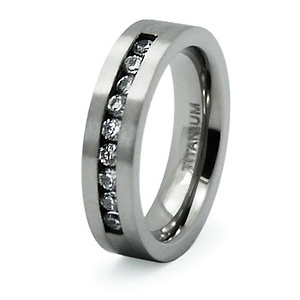 To view our entire collection click on Cubic Zirconia Rings or if you have any questions contact us Toll-Free at 866-808-0404. One of our customer service representatives will answer any questions you might have.
Affordable Cubic Zirconia Rings
Our cubic zirconia ring collection provides a sensible substitute for those on a tight budget. Diamond rings can cost thousands of dollars depending on the cut, clarity and carat weight. By swapping cubic zirconia for diamonds, shoppers can save close to 90 percent without compromising on beauty.
At Jewelry Vortex we understand the obstacles and challenges of purchasing jewels online. Without the ability to see first-hand or touch the merchandise, making a decision can be difficult. Through full-color images, and design-your-own-jewelry functionality, we are making it easier for our customers to make confident buying decisions. Our site's functionality is helping many people overcome the hesitations that have previously deterred shoppers from taking advantage of Internet offers
By using our online design tools, shoppers can create customized cubic zirconia rings. This feature allows shoppers and recipients to design and choose their own jewelry before anyone commits to the purchase financially. Designers can choose from silver, white and yellow gold settings, princess, pear or heart shaped stones. The options are unlimited and the prices have never been more reasonable. Use this design functionality and send your customized ring through e-mail, or add it to your very own Jewelry Vortex wish list.