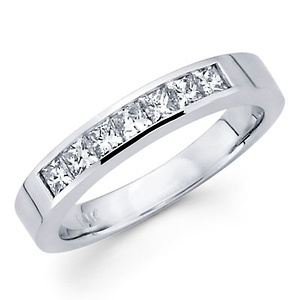 Diamond bands make a wonderful type of ring for an engagement, a wedding, anniversary, Valentine's Day, or birthday. Diamonds make any lady feel stylish and glamorous and give an elegant finishing touch to any outfit for men. The diamond bands from JewelryVortex are of the best quality and are available at affordable prices, so there is no reason you can't treat yourself or a loved one to these stunning rings.
There are many designs to choose from in JewelryVortex's diamond band collection. Some diamond rings were designed using an invisible setting, tension setting, that was developed in France. Basically the diamonds have grooves in their girdle that slip into the metal framework below the surface. The metal can now not be seen so it creates an illusion of a solid surface of gems. This setting also makes the diamonds in the ring look much larger. You can find other diamond bands in gold, white gold, platinum mount settings with different diamond shapes. Some of the diamond shapes are the round and square cut which are the more common, as well as heart, pear, and rectangular shapes. There are so many to choose from that it is highly unlikely that you won't find something to suit your specific style.
It is important when buying diamond wedding bands to get some sort of guarantee or return policy with it, so that you can be sure your purchase is genuine and of high quality. Your wedding is a big day as you are making a life-changing decision, and JewelryVortex has a fine selection of diamond bands that will want to wear everyday as a reminder of your marriage. This company will also be able to advise you on the proper care for any of your jewelry pieces. Their website is very resourceful as it has all the information you need on jewelry plus a number you can phone if you have any queries.
When you visit the JewelryVortex website you can view their entire wedding ring collection including diamond bands. The prices and carat sizes are also stated in the information, so you can pick according to your preferences. Also, all jewelry comes with a thirty day return policy giving you that needed peace of mind. A free gift box also comes with your purchase as well as the option of engraving your ring with a personal message to make this gift an extra special one for years to come. You can visit their website by going to www.JewelryVortex.com and making a purchase from the comfort of your own home.