One of the most important and life changing jewelry purchases people will make is buying an engagement ring. A diamond engagement ring is a symbol of true love and devotion, and JewelryVortex would like to help make the engagement ring search go more smoothly.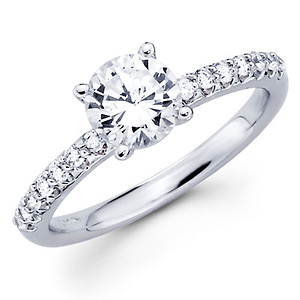 There are many different types of diamond engagement rings styles in the market. You will find many types of diamond shapes and cuts such as round, square, princess, emerald, or heart. Each one of these is placed in different settings to make each ring just as unique and special as your partner. The metals used to make the ring itself can be anything from platinum, yellow gold, white gold, and two tone gold. It all comes down to what you prefer and like in a piece of jewelry.
Investing in one of these beautiful diamond engagement rings is a big purchase so it is very important that you get some sort of guarantee or return policy so that you can be sure that what you are buying is of excellent quality and made to perfection! JewelryVortex has developed a very helpful and successful website where you can get top information and advice on your jewelry and how to take top care of it so that you may enjoy it for years to come. When you take good care of your ring it may even become a treasured family heirloom. You can easily browse their entire range and make a purchase online from the comfort of your own home or office. They even provide a handy search option for you to find exactly what you are looking for in your own price range.
The prices of today's diamond engagement rings differ from store to store but you can usually find something to suit your budget. Finding a store close to you that has exactly what you need can be a mission and that is why the internet is a very useful thing as you don't even have to leave home to make a purchase.
Browse JewelryVortex's fine diamond engagement ring collection and find a stunning diamond ring that will be cherished forever.