The diamond rings found on Jewelry Vortex are all backed by a 30-day warranty and money-back guarantee. No other jewelry stores, web-based or otherwise, offer this flexible customer service program. This service commitment is helping many couples avoid the usual stresses and pressures of shopping for wedding or engagement rings. How is JewelryVortex making the buying process easier?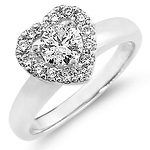 To view our entire collection click on Diamond Rings or if you have any questions contact us Toll-Free at 888-517-3777. One of our customer service representatives will answer any questions you might have.
Purchase Diamond Rings Safely on JewelryVortex
JewelryVortex has quelled many of the hesitations that traditionally prevent consumers from making substantial purchases through the Web. Security, product quality, shipping fees and laborious return or exchange policies have traditionally prevented people from making expensive purchases online. Engagement rings and wedding bands are a serious investment. To accommodate the concerns of shoppers we have implemented a strict customer service policy for all transactions made through JewelryVortex.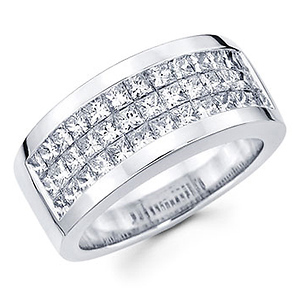 Our selection of bands includes ornate designs cast in yellow or white gold. Each set of couple rings is available in men and women's sizes from five to fifteen. Most of these sizes are in-stock and available for shipping in five business days. Even if you've waited till the last minute to purchase the wedding rings, rest assured JewelryVortex will supply you with a beautiful set in record time.
Our complete line of diamond rings and fine jewelry comes with a 30-day guarantee. If for any reason you are unhappy with the quality of your purchase, JewelryVortex will gladly accept the return no questions asked, and at no cost to you. With this program, customers can take advantage of our low prices and quality merchandise, risk free. Furthermore, our customer-centric support staff is ready to answer any questions you may have before finalizing your purchase.
The quality of merchandise at JewelryVortex is unparalleled. The images displayed on our site are an accurate reflection of the jewelry, itself. Our diamond rings are authentic and independent laboratory certificates are available for all diamond purchases. Don't take our word for it--order today and spend the next 30 days evaluating the merchandise for yourself. If at the month's end you aren't completely content with your purchase, send it back. Many of our return customers took a chance with JewelryVortex and were pleasantly surprised that what we claim is true--the diamonds, gemstones and precious metals on our site are both affordable and authentic.