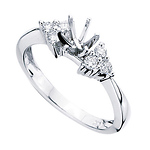 Diamond semi mounts, a.k.a. ring settings, are a unique alternative to traditional solitaire rings and solid bands. These settings combine intricately designed bands and a pronged setting to hold the center stone. The end result is a dual-purpose, combination engagement ring and wedding band.
To view our entire collection click on Diamond Semi Mounts or if you have any questions contact us Toll-Free at 888-517-3777. One of our customer service representatives will answer any questions you might have.
Create Your Ring with Diamond Semi Mounts
This may be the optimal solution for women who prefer to wear only one ring. The diamond semi mounts on Jewelry Vortex allow users to customize a ring through a simple point and click process. This technology enables shoppers to view the ring prior to finalizing the purchase. Prior to this technological breakthrough, many online shoppers refused to buy customized fine jewelry over the Web. Now, with our step-by-step building process, shoppers can view their ring as it is begin created, thus resulting in a more confident purchase.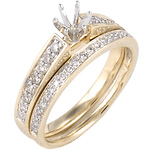 Selecting a center stone for diamond semi mounts is made simpler with the shape and sizing chart on JewelryVortex. First-time diamond buyers may be confused when deciding between princess and emerald cuts. The cut and weight of the diamonds are depicted in actual size to give shoppers an accurate idea of the final product. While certain cuts of diamond look larger than other, some of the weight is carried in the depth of the diamond. A one carat marquis-shaped diamond may look narrower than a square-shaped princess cut, but compare the depth of the marquis to the shallowness of the princess cut.
Diamond grading reports from the Gem Trade Laboratory are available for many of the center stones you'll find on JewelryVortex. We encourage you to review these reports before choosing a stone for the diamond semi mounts. The reports display accurate measurements, clarity, color grade, depth and much more. Use this information to compare our stones with others found on the Web.