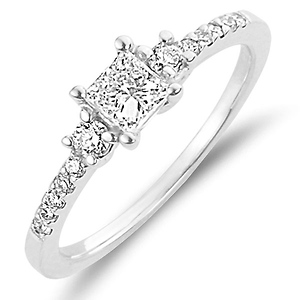 Engagement rings are a symbol of everlasting love and commitment. The importance of the ring has a tendency to put undue stress on the part of the purchaser. Furthermore, the process of shopping for and selecting the appropriate ring can be both frustrating and time consuming. With a little help from JewelryVortex buying an engagement ring can be an easy and affordable experience.
To view our entire collection click on Engagement Rings or if you have any questions contact us Toll-Free at 888-517-3777. One of our customer service representatives will answer any questions you might have.
First there is the cut, clarity and color of a diamond. Equally as important as the diamond itself is the precious metal and setting for the ring, wherein lies half of the frustration. There are just too many options to choose from. White gold, yellow gold and platinum are usually the top metals of choice. Since the ring is symbolic of your relationship, how can you determine which one will best reflect the bond shared between you?
Conquering the Challenges of Shopping for Engagement Rings
How can consumers simplify the process without compromising on quality, service and price? The answer is JewelryVortex. With an extensive selection of engagement rings to choose from, JewelryVortex helps shoppers overcome the traditional obstacles of engagement ring shopping.