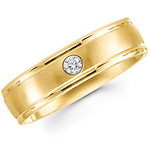 Many men are interested in wearing men's engagement rings in the same way a woman is interested in wearing an engagement ring.
The engagement ring (for men or women) sends a message to the world that you are soon to be married to your beloved, and many men believe they should not be an exception to this rule.
At JewelryVortex, we offer a wide range of engagement rings for men that can suit any man's style.