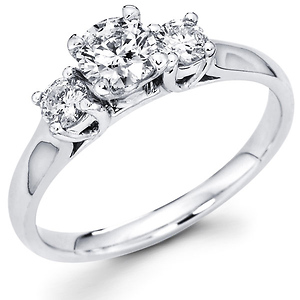 Shopping for gold engagement rings can be fun and exciting but daunting at the same time. With so many products, styles, and settings offered, it is easy to get carried away or become overwhelmed. A few hints and tips will make shopping for the perfect engagement ring much easier.
Firstly, it is important to shop at a jeweler who is reputable and whom you are comfortable with. The jeweler should preferably be a member of Jewelers of America. The jeweler should be able to offer you good advice and you should be comfortable enough to trust the advice. Be careful when shopping online because pictures of gold engagement rings may be different to the real thing.
Decide on a budget before embarking on your search. Gold engagement rings can range in price depending on the type of gold, the craftsmanship and the setting you choose. A ring set with diamonds will obviously be much more expensive than a plain gold ring. Be sure to stick to your budget as you can easily get carried away when shopping for jewelry.
Look for gold engagement rings with a karat mark. Although not required by law, most reputable jewelry stores only carry marked jewelry. Pure gold is soft and is therefore mixed with other metal to make it stronger. The karat mark will tell you what percentage of the ring is pure gold.
Twenty-four karats is pure gold, which is not practical for jewelry. Most gold engagement rings will be between 10 - 18 karat gold. All gold jewelry that carries a karat mark will also have to carry a trademark. A trademark or hallmark is the manufacturer's stamp of approval that endorses the accuracy of the karat mark.
Be sure to examine the craftsmanship of the ring. Gold engagement rings of good craftsmanship should look good from all sides and should not have any rough edges.
Be careful when buying a gold-plated ring as the gold plating will eventually wear away.
Also do not be fooled by the term solid gold. All it means is that the ring is not hollow. It does not mean that the ring is pure gold.
If you are buying a gold engagement ring for your partner as a surprise, make sure you choose a style that he/she likes. Rings are available in numerous styles and settings, from classic to modern. Also make sure you know whether your partner's preference is for white or yellow gold and be sure to find out the ring size.
If you are shopping for gold engagement rings set with diamonds or other gemstones, make sure that these stones are also real. When eventually making your purchase, remember that the price is not only for the gold but for the workmanship as well. Make sure that the karat quality of the ring is listed on your sales slip. Establish a good relationship with your jeweler so that you are comfortable sending your ring in for services such as cleaning, resizing or resetting.