Taking the next step and deciding to get married is a big decision, and sometimes it is not always the men that make that decision. Many women want to propose to their partner, and to make that moment extra special, you can choose from the gorgeous range of mens engagement rings from JewelryVortex.
Mens engagement rings are less popular, so there are fewer options to choose from. Yet, the selection that is available is very unique and different. Men tend to prefer a ring that is very simple but elegant at the same time. There are, however, options for men that prefer more extravagant and distinctive styles. There is a stunning range of diamond engagement rings for men, and they are available in gold, yellow gold, and white gold. Each design is different and very stylish. The next most popular men's engagement ring option is gold or titanium ring. These rings are known for its durability and class. Even though titanium is such a strong material, it is surprisingly light and looks elegant with any outfit.The material used to manufacture these fine pieces of jewelry are only gotten from a trusted supplier. These rings were made with the highest of standards in mind, so you can be sure that your purchase will be enjoyed and cherished for years to come.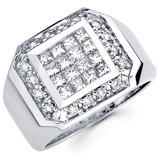 Any precious gemstones used in these rings are cut by modern machinery and are flawless, making your ring one of perfection. The prices on these rings are so affordable that anybody can afford to take that next step by giving a gorgeous engagement ring from JewelryVortex.
When you purchase one of the mens engagement rings from this online store you get a great number of benefits, such as the thirty day return policy, which assures you of the rings' excellent quality. If you would like to make your ring extra special, JewelryVortex is willing to engrave your ring with a personal message free of charge. This website offers you fantastic tips and advice on how to take proper care of your ring, and the search option allows you to find a ring in your price range. It has never been easier to make a jewelry purchase, you simply have to visit www.jewelryvortex.com to view this great selection of mens engagement rings from the comfort of your own home or office and make a purchase using your credit card. Visit this great website today!