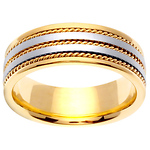 Marriage is the next step to showing your true love and devotion for another, and when you are planning that special day you will want every detail tended to including the rings. if you are looking for mens wedding rings at affordable prices, then JewelryVortex will be able to offer you the best selection there is!
Mens wedding rings always come in a variety of different designs and styles, so there will always be a ring available that suites your preferences. These rings are available in gold, silver, white gold, yellow gold, and if you are looking for a durable metal that will last you a lifetime or allergic to gold or silver, consider platinum, tungsten, and titanium rings. Diamonds are the most used in wedding rings and adds sparkle to any new couple. The wedding bands for men tend to be thicker, giving the groom a bold look while showing style and sophistication. All the materials used in the manufacturing of these rings are of the best quality and were made according to top jewelry standards and attention was given to the finer details. There are options for everyone when shopping at JewelryVortex, where you will find simple, elegant, and artistic rings available in the metal of your choice and containing a precious stone from trusted suppliers.
The great thing about purchasing a men's wedding ring from JewelryVortex is that they are confident that their product is top notch. They give you a thirty day return policy with any purchase. Their website offers fabulous advice on the proper care of your jewelry, so that you may enjoy it for many years. Their search option allows you to find a piece of jewelry or ring in your price range, so you can easily find exactly what you are looking for. It is so convenient to have the option of browsing through this stunning selection of rings and making a purchase from the comfort of your own home. When you are done making a purchase it will be shipped to you free of charge with a complimentary gift box for a flawless presentation of this beautiful piece of jewelry. A lovely and very romantic option is to engrave the ring with a personal message to make it extra special and something to look back on one day, JewelryVortex is offering this service free of charge, and you only have to request it. If you would like to take a look at the fantastic selection of men's wedding rings then visit www.jewelryvortex.com. Make your day extra special by making a top jewelry purchase today!