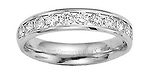 Weddings are a momentous occasion, from the planning to the wedding ceremony to the reception afterwards. But very rarely anything can overshadow the significance of the exchange of wedding bands between loved ones. Platinum wedding bands, though beautiful and inspiring, are extremely pricey. Platinum is the rarest commodity on earth - all the platinum ever mined would fit in an average sized living room. JewelryVortex is an online store that strives to deliver fine jewelry including platinum wedding bands without breaking the bank of the customer.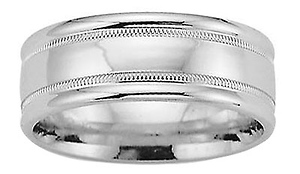 Besides platinum wedding bands, JewelryVortex also offers a range of white gold wedding bands at a fraction of the cost but with the same allure. Along with that, their reputation for service excellence and product quality extends to a wide range of other equally alluring materials including diamond, silver, gold, titanium, pearl, and birthstone. They offer different categories of wedding bands alone to choose from through their secure online store, all with a full 30 day money back guarantee. Free options with every order are delivery, engraving, and gift boxes, making it even easier and more unique for that special someone.
So, if you were hoping to amaze everyone with the look and glamour of platinum wedding bands on your special day, don't fret. JewelryVortex aims to satisfy all your jewelry desires at a more than reasonable price, often selling products with retail values two times as much as their price to you! JewelryVortex ensures that all their products on display on their website, www.JewelryVortex.com, is sold to you exactly as you see it with no unforeseen surprises when you receive it.
Visit us at www.jewelryvortex.com for any questions you may have on platinum wedding bands. You can also email us atinfo@jewelryvortex.com or call us TOLL-FREE at 1-866-808-0404 to place an order.