A ring reflects a highly individualized selection. Based in equal parts on personal taste, budgetary constraints, and the frequency of use, the decision of which ring to purchase encompasses several unique considerations. This is especially true when contemplating a wedding ring. It is also the reason that ceramic rings make a choice worth evaluating. Increasingly popular in recent years, particularly among men, these rings offer qualities that underscore their acclaim and worth considering ceramic's pros and cons before buying.
PROS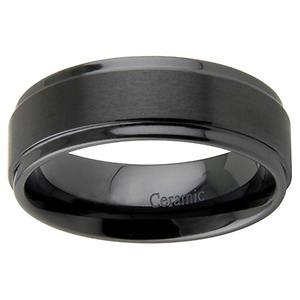 Beauty - First, ceramic wedding bands' beautiful design is a major element that draws buyers. Crafted by the high-temperature firing of non-metallic and inorganic minerals, these rings display a beautiful sheen that never fades. That polished beauty, often in black, proves especially attractive to men. Moreover, its versatility provides a wide variety of very appealing contemporary styles and finishes in fashion rings as well as wedding bands.
Durability - Durability supplies an additional reason to purchase ceramic rings. Worn daily, wedding rings need to withstand hits, nicks, repeated immersion in water, and other indignities. Ceramic rings meet this challenge excellently. They resist scratches and dents, remaining unmarred and retaining their original gleam.
Lightweight - Their relatively light weight presents another advantage. Compared with rings devised of different metals, ceramic rings are noticeably lighter, making them more comfortable to wear for extended periods of time. This characteristic also makes ceramic rings less likely to leave marks or indentations on the finger.
Hypoallergenic - While metal rings often cause allergic reactions, ceramic rings are hypoallergenic. It is nickel within metal rings that causes them to produce finger discoloration, rashes, and other irritations. As nickel is not present in ceramic rings, these allergies don't occur when wearing them.
Economical - Finally, affordability lures many buyers of ceramic rings. Comprised of readily accessible elements, these wedding bands are available at price points from well below a hundred dollars to slightly above. As a result, ceramic rings offer a good deal of style at very reasonable prices. It is this combination of contemporary allure and cost effectiveness that contribute in large measure to this ring's popularity.
CONS
Unalterable - On the other hand, although ceramic rings only have a couple of drawbacks, they can be enough to persuade some people that ceramic rings may not be the best choice for them. An inability to resize ceramic rings, for example, can be a disadvantage. While a lifetime sizing warranty accompanies many ceramic rings, it simply permits owners to exchange the ring for another ring of a different size, a decided drawback for those for whom a ring holds sentimental value. Furthermore, unless the warranty explicitly indicates that this service is free, owners incur a fee.
Varying Quality - Additionally, the proliferation of companies producing ceramic rings in response to the high demand means that quality varies. This can present a challenge for those seeking the elegance and affordability of ceramic rings along with the excellent quality that garners praise for them. Shopping with the most reputable companies offers an easy solution. At GoldenMine, we offer the highest quality ceramic bands from Benchmark, which are made in the USA.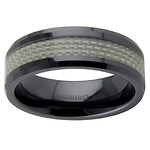 Ultimately, being informed makes all the difference. While the advantages of a ceramic ring outweigh the disadvantages for most people, the final decision, much like the selection of the ring itself, is quite personalized.
Have any other questions or concerns on buying jewelry? Call our jewelry experts at JewelryVortex.com toll free at (888) 517-3777 Monday - Friday, 10am-4pm PT or click here to email us anytime.