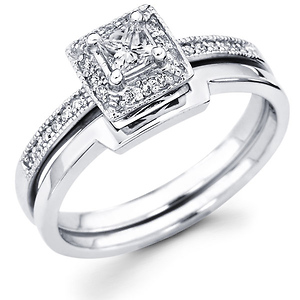 We have all heard the rule about how you should spend two months' salary on an engagement ring, but for many people, that is just not possible. Yet, even those who are looking for affordable engagement rings and wedding bands can find beautiful rings. In order to do so, understand how to shop for an engagement ring or a wedding band on a budget. Shopping on a budget does not mean settling for a diamond-less set or something made with a lesser metal. It does mean knowing some basic tips for getting the most from your limited jewelry dollar.
Size of the Diamond
To find an affordable diamond engagement ring, understand that the bigger the diamond, the more it will cost. Smaller diamonds can be classy, elegant and nice looking. They can also look bigger if it's surrounded by diamonds, creating a halo effect or if smaller diamonds create a shape in the center, creating an illusion of a bigger stone. For example, four princess cut diamonds forming a square shape can give the illusion of one large princess cut diamond. Furthermore, having side stones along the shank or past, present, and future engagement rings (a.k.a. three-stone rings) can make a ring look more sparkly and filled with diamonds. Consider getting a diamond ring with multiple smaller diamonds instead of one large carat diamond.
Consider the Setting
Simple settings for the diamond will be less expensive. In general, the rule is that the more ornate the setting, the more expensive the ring will be. The simpler setting will require less gold or platinum to make and might also require less craftsmanship, which can also save money. In an engagement ring, a simple "Tiffany" setting can be cheaper to produce than something like a scaffold-setting, which requires more craftsmanship to produce as well as more gold.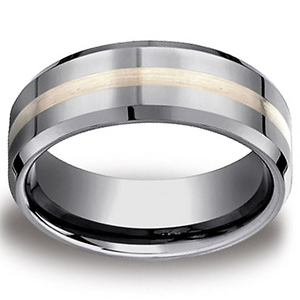 Other Metals
Gold and platinum are the most popular types of metals for engagement rings and women and men's wedding bands. Platinum is the most expensive metal to use for wedding rings, so if you are interested in platinum, consider white gold, which is slightly less expensive yet considered precious. Furthermore, jewelers are making wedding rings in other types of quality metals, such as tungsten, cobalt, titanium, ceramic, silver, and palladium.
Buy a Wedding Set
Buying set of an engagement ring and complimentary wedding band or matching wedding bands can help save you money. Because they are bought together many people choose this option, discounts can be offered for buying two rings instead of one. Consider buying a wedding ring setor wedding band set.
While it might be overwhelming at first to think about making an engagement ring or wedding ring purchase, there are many options that can make this a more affordable - and less overwhelming -- purchase.
Have any other questions or concerns on buying jewelry? Call our jewelry experts at JewelryVortex.com toll free at (888) 517-3777 Monday - Friday, 10am-4pm PT or click here to email us anytime.