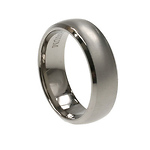 Titanium mens rings are almost one of the most popular forms of metal rings chosen by men. The reason is simple - titanium is less costly and lasts for years. It is available in comfort fit and can be worn on a daily basis while looking great! More men are choosing titanium rings, for many reasons, such as wearing gold is too traditional or gold and platinum cost more than they can afford. Titanium rings for men, on the other hand has become a fashion trend that now, unlike gold, most persons are able to afford.
How does one go about selecting the perfect men's titanium ring as a gift? There are a few considerations one has to take into account - just because a ring looks great does not mean it is ideal. At the end of it all, you want a ring that is beautiful, reflects his style, and is versatile, in every aspect of his life. Let us look at the following scenario; you have decided to buy your husband a titanium ring because it is extremely durable and longwearing and it is a style that you assume matches him well. Now you need to ask yourself questions like; will he be able to wear this ring on a daily basis? Is this ring versatile enough to be worn anywhere? Is he going to be playing sport with his ring and wearing it to work everyday? All the answers to these questions will allow you to grasp a picture of how much maintenance the ring will need and how suitable the ring is for your husband's lifestyle.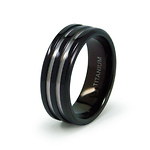 Titanium mens rings may be durable, but that does not men that it is not prone to some sort of damage. If worn during physical activities, like sports, the ring will probably scratch and scuff. When this happens, a visit to the jeweler is a necessity. An advantage of titanium rings is that it will never tarnish, rust, or become malformed, so basically, it can be worn anytime, anywhere. Many men in fact do not wear their rings on a daily basis, which truly, in the case of titanium men's rings just means extra years of elegance.
When selecting a titanium mens ring, one aspect that needs consideration is the degree to which the ring reflects the wearer's personality. Some men prefer taking a walk on the bold and different side, others prefer traditional rings and then again, some men like it with no fuss, just simply plain! Titanium wedding rings for men are available at almost any jeweler; one can even purchase them online. The titanium men's ring is becoming increasingly popular, and unless another metal emerges with qualities better than this, then titanium is here to stay!