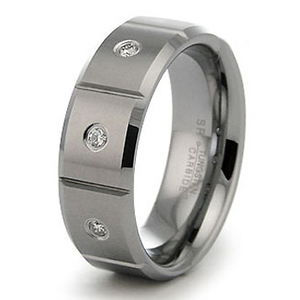 Not all wedding rings must be fashioned from gold or platinum. Many brides and grooms choose a less common option - the semi-precious metal. These include silver, tungsten, titanium and palladium.
Tungsten
Tungsten is often forged with carbide to create a durable and versatile ring for both men and women. Usually formed into a band, tungsten rings are a popular choice among men who want something a bit different, want something ideal for active wear and yet that provides a high-end look. Tungsten usually provides a shiny band, which can be set with diamonds or that can be carved or braided with other metals.
One of the great advantages of tungsten is while it has that high-end look that many men want, it is virtually scratch-proof, so the high-end look can be obtained without worrying about the quality of the ring.
Titanium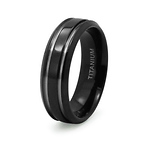 Titanium has a similar look as platinum, but it is a much stronger metal that is hard and is ideal for wearers with physical jobs who might damage a ring made from a different metal. Men who are carpenters, plumbers and electricians like the durability that titanium wedding bands provides.
Titanium provides an ideal backdrop for the bride who wants a sleek and modern looking diamond engagement ring or wedding band. Often the stones are set into the metal and are smaller than traditional gold wedding bands and rings.
For both men and women, titaninum is as solid choice for durability. While it's not completely scratch-proof like tungsten, it is also durable and less likely than many other metals to scratch.
Palladium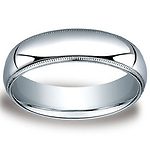 Brides and grooms who like white gold might also want to consider palladium. This metal will always stay white because it does not need any special treatment in order to make the metal white - it is naturally white.
Palladium is ideal for the wearer who is allergic to gold or other metals because it's hypoallergenic. As well, there are no alloys in palladium that can cause the metal to tarnish, so there's no chance of a palladium ring tarnishing. In addition, it is an affordable alternative to platinum.
Brides who like filigree work should consider palladium wedding rings because the metal can support the intricate designs inherent in that kind of design work.
Silver
It is not very common for brides and grooms to choose rings made from silver, but it is also not a bad idea. For the budget conscious, silver can provide the look of white gold or platinum but at a much more affordable price.
While you can have diamonds set into silver, most people who choose a silver wedding band or ring will choose to have it complimented with cubic zirconia. After all, if you are going to go with the real stone, you might as well go with the traditional metal as well.
But for the couple who wants a ring that is exciting to look at and easy to wear, silver can provide a nice setting. A silver wedding set can also be a secondary set for couples who like to travel and do not want to worry about their jewelry while traveling.
While most brides and grooms stick with tradition and choose either gold or platinum for their wedding bands and rings, thinking outside the box and considering other metals can pay big dividends in a way that might suit the wearer even better.