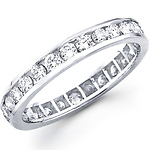 A wedding is a glorious celebration that we all want to experience and jewelry does play a part in all of it. The perfect wedding band can make all the difference!
Wedding bands have a monetary and sentimental value to married couples. This symbol of love and commitment can come with a hefty price tag. While some people choose their bands based on gemstone or precious metal preference, others are forced to base their decision on budget. Without the right resources, wedding jewelry can require both a significant financial and time investment. Smart shoppers have taken their business to the Web in search of competitive pricing, unique merchandise and quality gems.
To view our entire wedding band collection click on Wedding Bands or if you have any questions contact us Toll-Free at 866-808-0404. One of our customer service representatives will answer any questions you might have.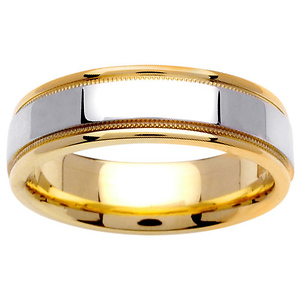 The Convenient Way of Buying Wedding Bands
The wedding bands at JewelryVortex are obtained through our network of reputable wholesale manufacturers. How can we afford to discount our merchandise as low as the prices you'll see on our site? Years of experience have helped us build lucrative relationships with the world's most prestigious jewelry providers. This rapport is evident through the factory direct pricing and wide selection of fine jewelry we offer.
Not only is our wedding band jewelry affordable, but the customer service we offer supports our mission to provide consumers with the best quality merchandise in a hassle-free environment. Each of our hand-made diamond collections and wedding bands come with our guarantee and commitment to service excellence. Our experienced team of professionals is well-trained and can provide you with the jewelry expertise you need in order to make your purchase confidently. Each piece of merchandise sold on Jewelry Vortex is carefully inspected, assuring it meets the needs and specifications of the customer.
With efficient worldwide shipping, Jewelry Vortex is able to deliver wedding bands to any U.S. location and many international destinations. Many of the products you'll see on Jewelry Vortex are in stock and available for shipping in just a few business days. If you are in search of an exceptional piece of jewelry at an unbelievable price, look no further. Browse through our inventory of diamonds, gold and platinum to find the ring you've been searching for.