Browse Wedding Ring Sets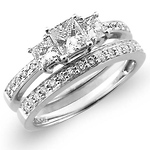 Wedding rings sets, a.k.a. engagement ring sets and bridal ring sets, consists of an engagement ring that fits and matches perfectly with a wedding ring. It is a symbol of two people becoming one. The never-ending bands show the eternal love you share with her. If she plans on wearing her engagement ring and wedding band everyday, choose a wedding ring set.


JewelryVortex carries a fine selection of wedding ring sets in 14k gold, 18k gold, white gold, platinum, and titanium. Give her a true symbol of your love. She will appreciate the beauty and quality in our rings. Why walk from store to store when you can shop at home on your own time? Browse our selection of wedding ring sets. We carry solitaires, solitaires with accents, cubic zirconia, diamonds, pearls, and more.


Browse Wedding Ring Sets