Browse White Gold Engagement Rings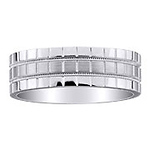 White gold rings are an affordable alternative to platinum. While wedding bands are an eternal symbol of commitment, they don't necessarily have to break the bank. The precious metal options vary by color, strength, and cost. For men and women who prefer to wear silver metals as opposed to traditional yellow gold, the options can be expensive. Platinum and titanium offer a similar style and durability although the price tag normally reflects these advantages.
A white gold ring makes the perfect gift for almost any occasion, whether it is a birthday, anniversary or engagement. Its sheer beauty will bring any person joy. This ring is made from the finest in white gold and was manufactured with the highest of standards in mind.
To view our entire collection click on Wedding Rings or if you have any questions contact us Toll-Free at 866-808-0404. One of our customer service representatives will answer any questions you might have.
White Gold Rings at JewelryVortex
To maintain style while eliminating nearly half of the cost, consider purchasing white gold rings from JewelryVortex. These handcrafted rings come in a variety of styles such as plain comfort-fit bands, fancy jewel encrusted patterns, or couples collections. White gold is nearly identical to platinum and may be the perfect solution to your style and budget. In addition to the affordability of white gold, JewelryVortex shoppers also benefit from the factory direct pricing and 30-day guarantee.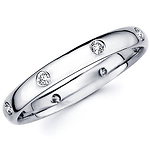 Choosing between yellow or white gold rings can be a difficult decision to make. The trends vary between yellow and white gold and people's preferences may change over the course of a lifetime. In these cases the two-toned rings at JewelryVortex will suffice. These rings weave white and yellow gold together to produce a versatile piece of fine jewelry. Our two-tone selection is one of the most unique on the Web. The intricately carved detail of the items found in the wedding collection is exclusive to JewelryVortex.com.
The exchange of wedding rings is a unique experience to every couple. To symbolize this distinctiveness, choose from the merchandise at JewelryVortex. Browse through our couples collections, engagement rings and men's wedding bands in search of the ring that best suit a left hand. As you will see, our hand-made, customized wedding jewelry is unmatched in quality, price and beauty.
Browse White Gold Engagement Rings