Platinum is one of the most popular metals for wedding rings. Men and women alike prefer platinum wedding bands for their classic look and durability. For some it is a status symbol - platinum is one of the most expensive metals available today.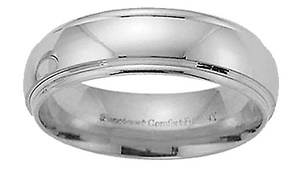 Facts About Platinum
Platinum is in high demand likely for a number of reasons, not the least of which is its reputation as one of the most elegant and finest metals available. It also has much to recommend it, however. Some of its better features include:
It is hypoallergenic - This is a benefit to the many people who have allergies to silver and lower quality gold, such as anything below 18K.


It won't tarnish or change color - Not many metals can claim this. Some, in fact, require regular care in order to keep them from tarnishing and turning color. Platinum is classically popular partly due to its durability and ease of care.


It is 30 times more rare than gold.


The majority of platinum is not used for jewelry. In fact, only about 40 percent of all the platinum that is extracted is used for jewelry; the rest of the extracted platinum is used for environmental and industrial purposes.


"Platinum" is often a top term. That is, if you have a platinum credit card, you are considered to be at the top tier of credit card owners. As well, if you are in the recording industry, "going platinum" is considered the highest and most exciting achievement you can reach.
Why Not Choose Platinum?
For some people, they know before they even begin shopping for a wedding ring or a wedding set that platinum is the only metal they will accept. For those with a bigger budget, it's an easy addition, while others might have to scrimp and save to make that platinum ring a reality.
However, there are some people who simply do not like platinum. Some people think it looks a bit too much like silver and might be mistaken for the much cheaper metal or find platinum rings to heavy to wear every day. Others who like a modern, updated look might prefer gold. Still others choose white gold, which can slightly look like platinum but without the platinum price tag.
Whether platinum is a necessary choice for you or you prefer other metals, there is no denying that platinum is a high-end metal that brings class and sophistication to the finger.
Most people will find more than one wedding band style that suits them - the real task, then, is choosing the one that they can wear for a lifetime.
Have any other questions or concerns on buying jewelry? Call our jewelry experts at JewelryVortex.com toll free at (888) 517-3777 Monday - Friday, 10am-4pm PT or click here to email us anytime.