A wedding is a lovely occasion, and for most couples, every detail has to be perfect. Yellow gold wedding bands make the ideal finishing touch to any wedding. With all the styles and designs to choose from, yellow gold has that distinctive touch and value that will catch the eye and make a lovely way to symbolize pure love, devotion, and commitment.
Yellow gold wedding bands come in various styles. One type of yellow gold wedding band are rings laced with beautiful diamonds for men and women. The signature diamond band range is a more unique and special range with diamonds of different colors. With these rings it is possible to create a design of your own. Another unique design that is available in yellow gold is the hand braided ring. This ring was uniquely crafted to look as if the gold and silver or any other materials were braided together. These come in designs for men and women and make the perfect set of wedding bands has it symbolizes true devotion. If you are more artistic and really want something different then you should consider the carved wedding bands as they were carved with artistic patterns in precious metals.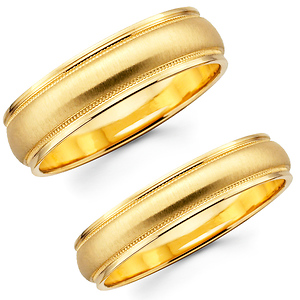 Yellow gold wedding bands also come in fancy designs where they were hand crafted while paying attention to the finer details giving it an elegant look. A seamless wedding band is very modern but simple and shows a sign of taste and style. If you would prefer to have your wedding bands in yellow gold plus another metal then there are a number of two tone rings available for you to choose from. Finally if you want a more extravagant option then there are rings available that have been made by a top designer. These rings come with diamond settings to shine out on your wedding day. Wedding bands with other precious gem stones can be purchased for other unique options. When you purchase something as important as wedding bands its always reassuring to get a guarantee or some sort of return policy so that you can be sure that your purchase is one of high standards and quality.
JewelryVortex has a beautiful range of yellow gold wedding bands for you and your partner to choose from. They have developed a fantastic website for you to browse around and make a purchase from the comfort of your own home. When you make any purchase from this jewelry company you automatically get a thirty day return policy. A free gift box comes with your jewelry piece and JewelryVortex will do all the shipping for free too. If you purchase a piece that can be engraved, they will do this for free making your gift extra special with a touching message. You will also get top advice on how to take care of your jewelry when visiting the website so you can enjoy your purchase for years to come.
Visit JewelryVortex today at www.jewelryvortex.com. You can also call us toll free at 1-888-517-3777.