Autumn is here, marking the start of days growing colder and crisp and producing a magnificent array of golden, reddish, and brownish hues and colorful fruit. This season offers a plethora of beautiful and fun inspiration that many fall weddings draw from for their overall bridal décor. While your flowers, wardrobe, favors, and other decorations may integrate this season, many people never think about incorporating those themes into their rings' design. For all fall brides and grooms, why not draw inspiration when choosing your wedding bands from this season? Matching the style of your nuptial rings to the season is a stunning and personal way to commemorate your special day. We offer a fantastic selection of wedding bands for men and women that incorporate the season's elements. Reasonably priced, marvel at these quality options that add a dash of the equinox to your eternal commitment.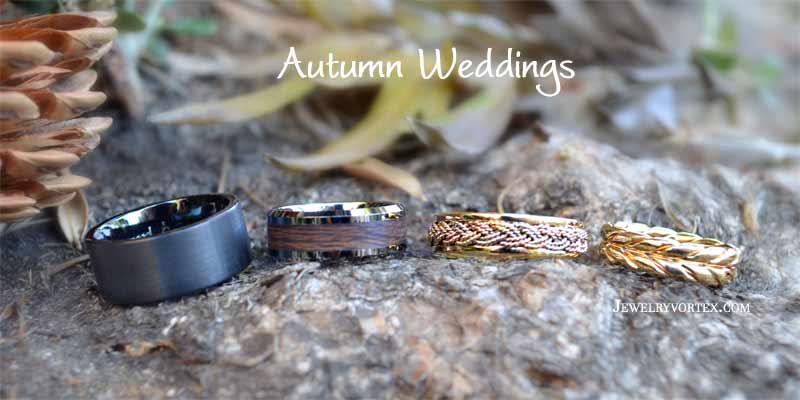 Tri-Color Gold:

The first of the three main autumn wedding band options is the Tri-Color Gold wedding band. The combination of yellow, rose, and white gold reflects the colors of the season. These three shades marry seamlessly and elegantly, and its simplicity makes the tri-color gold ring a splendid choice for autumn brides and grooms.

→ Click Here to Browse Tri-Color Gold Wedding Bands

Wheat Braid:

Another way to further highlight the autumn season in your wedding is to opt for a wheat braided wedding band. The wheat reminisces harvest time, representing the bounty and sustenance of your relationship. Furthermore, braids symbolize a strong bond, just like the love you and your fiance share. The intricacies of a wheat braided ring make it a striking choice for autumnal nuptials.
→ Click Here to Browse Wheat Braid Gold Wedding Bands

Black:

While many associate fall with golden leaves and harvest, this season reminds people of Halloween [Read Tips on Creating a Halloween Wedding]. For those of you who chose an autumn wedding to hearken to the charm and mystique of the season, a black wedding band might be for you. If you would rather have a more traditional, lighter-colored wedding band, such as silver, gold, or platinum, inlaying black diamonds or stones elicits the same mystical response as a black ring. Black wedding bands and gems suggest the magic, allure, and power of the bond between you and your love.
As the leaves change color, harvest begins, and magic wafts and whispers through the air, you set your date in autumn because you love this time of the year. You can love it all year long by weaving the season into your wedding band design. With tri-color gold, wheat braided, and/or black wedding bands, the beauty of autumn and your wedding lingers close to your heart no matter the season.