We pondered this question, has the current economy change how and what people are buying wedding rings? Has it changed yours? We certainly noticed a change. Check out our press release below to find out what we found: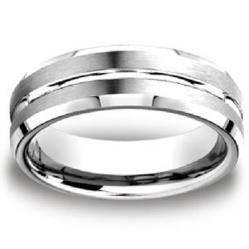 The new economy has changed not only how people spend on everyday purchases but how engaged couples' buy and view wedding rings. The wedding industry usually survives economic swings with overall wedding budgets staying relatively the same. However, as the economic lows shifted many people's spending habits, this change trickled down to the wedding industry last year. People are spending less on bigger wedding items including jewelry, such as diamond engagement rings and expensive wedding bands. Also, with surges in gold prices, the cost of gold wedding bands for men and women and other gold jewelry increased. This change affected many engaged couples' preferences in wedding rings as well as their mindsets of how they view wedding bands. Because of these changes, JewelryVortex, an online wedding jeweler, expanded their metal choices from traditional gold and platinum rings to non-traditional precious and contemporary metal rings.
When it came to purchasing wedding bands, gold and platinum were the precious metals of choice. Over the past few months, overall gold ring sales decreased as tungsten ring, titanium ring, ceramic ring, and other metal wedding ring sales went up from last year.
"With times of economic uncertainty and the cost of gold sky rocketing, contemporary metals, such as tungsten, titanium, and cobalt, are looking quite attractive when it comes to couples who are in a tight budget but want high quality designs that are the same as gold," said David J. Lee, co-founder of JewelryVortex. He noticed that tungsten wedding band sales rose 72% and titanium wedding band sales increased 57% from 2010 to 2011, and they continue to grow in 2012. Lee expects that ceramic rings, cobalt rings, and other metal rings will increase in 2012 as well and added these wedding bands to its collection.
Lee also said that customers' mindsets on how they view wedding rings changed, affecting what type of metals they choose for their rings. For the past few decades, many couples thought of their wedding bands not just as sentimental jewelry pieces but also as a financial investment since gold and platinum hold value over time and often passed down to their children as valuable jewelry. Now, because of the high gold prices, people who are on a budget look more at the symbolic factors when choosing wedding rings and less of the investment value. This shift in thought allows customers to consider other types of rings, and JewelryVortex reacted by including more contemporary metals and other precious metals to their wedding ring collections. JewelryVortex now offers a wide variety of tungsten, titanium, palladium, ceramic, Argentium silver, and cobalt wedding bands in traditional and artistic designs with or without gemstones. It is excited to offer more affordable, durable wedding band options in addition to gold and platinum rings that reflect the symbolic aspects of marriage.
Even though the economy is back on the rise, many engaged couples who were deeply affected by the economic lows are still fairly cautious. They are more open to the more affordable, non-traditional wedding band metals and view them less as an investment. JewelryVortex added more precious and contemporary metal ring options to its fine wedding ring collection to accommodate these customers.
"I believe regardless of how tough things are these days, people are still going to fall in love and get married, and I want to provide the right price points and selection. And that's what I plan to do, to provide a good selection of alternative metals to make their dreams a reality," said Lee.
This press release was distributed by PRWeb: www.prweb.com/releases/2012/3/prweb9302835.htm.