You have found that special someone with whom you want to spend the rest of your life with and decided to pop the question. It is now time to purchase an engagement ring that she will love. Even if you don't have a lot of money to spend, you can still find a ring that will take her breath away. Read on to find out how you can find more affordable diamond engagement rings.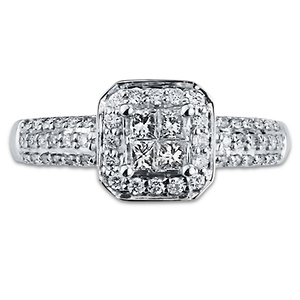 Shop Online
In order to get an idea of what is a reasonable asking price, you need to shop around. A good place to begin is online. Because online retailers do not have the amount of overhead that a brick and mortar store does, they can usually offer their fine jewelry at more competitive prices. You also will have more selections when you shop online.
Because you will not be able to see the ring in person before you purchase it, it is important that you read the descriptions carefully. Pay attention to the specifications of each ring to ensure that you are getting one that is top quality. Also, make sure that the online jeweler has a return policy just in case your ring has any defects or you simply do not like it after seeing it in person.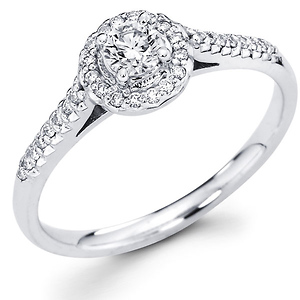 Make the Most of the Diamond
Even if you are unable to afford the biggest diamond out there, there are a few tricks that can make the stone look bigger. Selecting a ring with specific shapes, settings, and side stones can achieve this look.
Shape. Instead of selecting a diamond that is round or princess cut, opt for a diamond with elongated sides. These include diamonds that are oval shaped or marquise cut. These shapes can make the diamond seem larger than it really is.
Setting. The way the diamond is set into the ring can make all the difference in the world. Two settings that work well for maximizing the size of a diamond are the following:

Invisible Setting. Gemstones are placed close together while the ring's band is concealed beneath the stones. When several small diamonds are placed next to each other in this setting, it can give the impression of one large diamond.
Bezel Setting. A metal rim extends slightly above the diamonds that are placed inside. When white gold or platinum metals are used in a bezel setting, they can blend with the diamonds and give the illusion of them being bigger.
Side Stones. Instead of the ring containing a single large diamond, select one with smaller side stones. A classic look is a ring with three stones placed together. Not only can the three stones be a symbol of your past, present and future as a couple, when they are placed in close proximity to each other they can appear bigger.
Halo Setting. Similar to the invisible setting, a diamond encircled with smaller diamonds make the center diamond seem larger and even more vintage-like and romantic. The halo of diamonds give the appearance that they are part of the center diamond.
Purchasing an engagement ring for the one you love does not have to break the bank. Use these tips to help you choose a diamond engagement ring that gives you the best value within your budget as you begin your search.