September has become the second most popular month to get married. Whether it's the changing of seasons signifying the beginning of a new chapter in life or the beautiful warm colors and fallen leaves of autumn, this month is a splendid time to say your wedding vows. If you are getting married next month and still have yet to buy your rings, NOW is the time to get them. You should allow at least 2-3 weeks at the bare minimum to order your rings just in case you need to resize them and/or allow time to make the ring as certain styles are made-to-order. To help you decide on what to buy, we came up with a list of our top 5 wedding bands!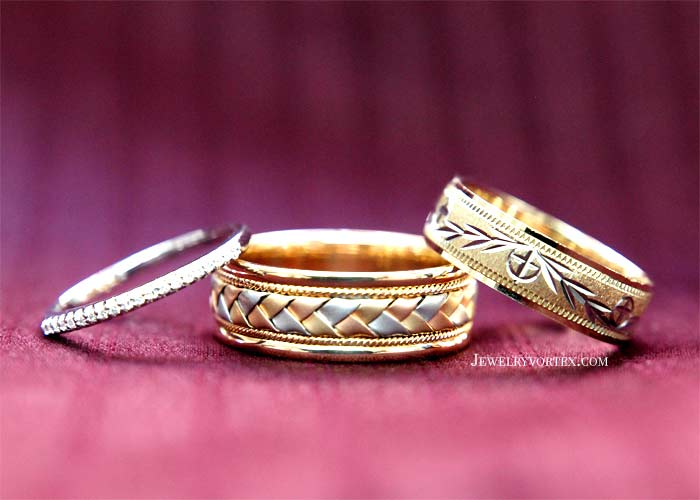 The symbol of an everlasting love woven together in a tight bond attracts many people to this wedding band. Plus, its yellow, rose, and white gold braid and handmade cords create a striking design that draws the eye, more so than a plain wedding band.

#2 -

14K Two Tone Gold 5.5mm Christian Wedding Band >

Shining with yellow gold, this wedding band has elegant white gold carvings featuring Christian symbols, such as the cross and ivy. It has a timeless beauty that attracts many of our male and female customers belonging to this faith. Also, this gold ring's price makes it more accessible for those who want the luxury of gold at a more affordable price.

#3 - 5mm Satin Double Groove Center Argentium Silver Wedding Ring >

While a traditional, plain ring is common, the matte grooves in the middle of polished edges adds a stylish, modern twist to the classic band. Also, it is made with a more affordable, tarnish-resistant precious metal, Argentium silver. This ring is popular among men and women who want a timeless, designer style at a great value.
Notice the flourishes reminiscent of art from the past carved into this ring between two hand-woven cords. This yellow gold ring's artistry is simple yet exquisite, enticing many people to choose this ring. Since wedding bands are meant to be worn forever, why not wear a piece of art that you can cherish for years to come?

#5 - Pave Set 14K White Gold Diamond Wedding Ring (0.10 ctw) >

This sparkling wedding band is popular among women who want to wear a gorgeous ring that stacks neatly against their diamond engagement rings, especially a halo ring. As a delicate beauty at a price that fits most budgets, many brides select this band to complement their solitaire rings or for its sparkling simplicity.
Choose one of these beauties or select from our fine collection of wedding bands.