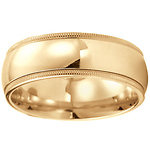 Consideration of the purchasing of a Wedding Band extends much further than deciding on style and size, one should also be considering how the band should fit and feel, after all, its purpose is to be worn forever. A distinction can be made between comfort fit and classic fit. Comfort fit wedding bands are curved on the inside providing exactly what its name states, a more comfortable feeling, classic fit wedding bands have a flat interior and are thinner on the inside when compared to the comfort fit, choice between the two will depend on individual preferences. Wedding bands, found in traditional white gold, yellow gold and rose gold can be custom fit to suit each person's individual needs.
Amongst the most popular gold wedding bands are those of white gold and yellow gold. The versatility of a gold wedding band is endless, should you prefer a truly individualistic wedding band created from your own imagination, designers are more than happy to comply. Gold Wedding Bands can be engraved without damaging the metal and if taken to a jeweler at least once a year for professional cleaning can be maintained in excellent condition for years ahead.
When purchasing a Gold Wedding Band quality is of utmost importance, ask the jeweler to show you the difference between 14k and 18k, note the quality of craftsmanship and ensure that your purchase is exactly what you desire. Many rings are gold plated, although attractive upon purchase these rings fade quickly and may cause discoloration on the skin, ensure validity of your jewelry before making payment.
Gold Wedding Bands compliment engagement rings made of the same type of gold and tend to be less appealing than the original engagement ring, mainly due to the fact that the wedding ring is usually attached to the engagement ring after the ceremony.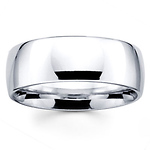 Gold Wedding bands vary from plain and sleek to varying styles and innovations, it is up to the individual to consider which style he or she prefers and would be the most comfortable wearing. White Gold Wedding Bands are popular among men because the metal is easy to work with, produces a significant end result and always looks good. Both yellow gold and white gold are equally popular amongst women, some Gold Wedding Bands combine the two metals, each creating their own flawless look.
From Ancient Times men did not always wear a ring to symbolize a commitment to their wives; it is only through modern times that most churches adopted the tradition of men exchanging a ring with their wives. Gold Wedding Rings, whether tow-toned on monocular have remained stylish for many centuries and will remain so for many years to come, a metal that can display such versatility and exquisiteness as gold is yet to be discovered.