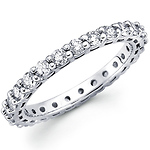 Some wedding bands for women are thin bands of gold or titanium, and others are much more ornate, and include diamonds, braided metals, and even two-tone gold. The most popular types of women's wedding bands are diamond wedding rings. Yet, more and more women choose wedding rings that have a similar style or are the same as their husbands' rings.
At JewelryVortex we pride ourselves on having a wide enough selection that we believe every shopper looking for wedding bands for women will find something to suit them.
We offer wedding bands for women in a wide variety of styles, prices, and metals. Whether the woman shopping for a wedding band has simple taste and a simple budget or has more luxurious taste and a budget to match, we are sure she'll find the perfect wedding band for her.