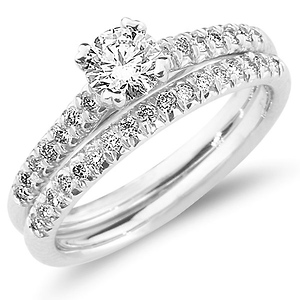 Purchasing wedding rings sets, otherwise known as engagement ring sets, is a highly personal decision for most brides and grooms. These sets come with a matching engagement ring and wedding band for brides.
At JewelryVortex, we have wedding rings sets to suit any bride's preferred style. Whether she has a large budget, or a smaller budget, or whether she wants something unique and different or traditionally pretty, our wedding bridal ring sets selection is unparalleled.
Shopping for wedding rings sets can be overwhelming, but at JewelryVortex, we like to think we make it not only simple but fun for every bride and groom.
Learn more about wedding rings sets in our Shopping Guide: Two Types of Wedding Sets.