In our last blog, I offered tips on finding diamond engagement rings that fit your budget. Now, it's time figure out what to put as an engraving in an engagement ring or wedding band. We have seen a growing trend these days of engraving personalized messages onto rings. Not too long ago, engraved rings were common, but they usually only contained names, initials, or a special date. Nowadays we see our customers getting very creative with their engravings and wanting specific messages that mean something to them and the recipient. Our customers are even adding engravings to gifts to their family members and friends. Read on to get useful ideas on selecting a special word or phrase to engrave on wedding bands, engagement rings for men and women, and gifts and learn about popular engraving messages.
Engraving Ideas for Lovers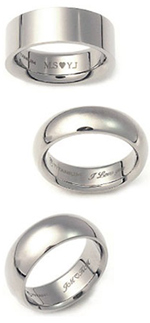 Engraving a word or phrase on a ring for your lover is a perfect way to give the ring that special touch and show your partner how much you care for them. It can be a phrase that is special to the two of you and will make your loved one smile every time he or she puts it on. Some of the more popular ring engraving messages that we have been asked to engrave include the following:
I Love You
Together Forever
Soul Mates
'Til Death
Forever
Love
A growing trend that we have noticed is for a couple to have matching wedding rings. The same phrase is engraved into both rings, much the same as the "best friends" rings and necklaces that were once so popular, or a romantic phrase is broken up into two jewelry items. Some of these phrases include the following:
Ring One: Forever -- Ring Two: And Ever
Ring One: To Love -- Ring Two: And Cherish
Ring One: Romeo -- Ring Two: Juliet
Ring One: To Infinity… -- Ring Two: And Beyond!
Engraving Ideas for Friends
Giving your friend a ring with a personalized message engraved inside can be a keepsake that he or she will cherish forever. Some of our most popular ring engraving messages for friendship include the follwoing:
Friends Forever
True Friends
No Distance…
Super Friends!
I'm Here
Partners in Crime
Add some extra personality to your ring with a personalized engraved message and let your recipient know how much you care. If you can think it, it can be engraved!