We've all read plenty of articles about choosing wedding bands for women. For some reason, everyone assumes that men need a lot of help in this department…let's be honest, women need just as much help when it comes to choosing a wedding ring for their man. Women, you know what you want in a ring, and you probably also have an idea of what you want your husband to have. But the most important thing you need to know is what he wants to have as his wedding band. Just as you'll wear your band for decades, he'll wear his. It should be something he really wants.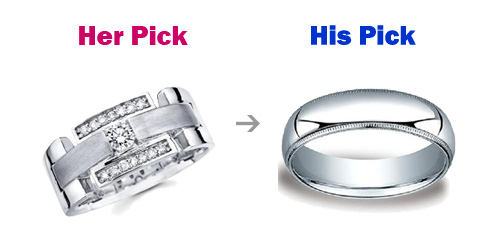 Admittedly, we men are generally not as design-minded as you. We like something simpler. You know your husband or husband-to-be the best, however. Just as he undoubtedly considered your personal style when searching for your perfect ring, do not neglect to consider his fashion sense.
1. Consider what material is best for his needs. Gold is traditional and highly valued for wedding rings, but because of the softness of this metal, it can be easily scratched and bent, making it less ideal for a man who works construction, masonry, or landscaping. The best metal to choose for a man who works with his hands is titanium because it is more resistant to scratches and very strong. For a couple trying to save money, another option is silver, particularly Argentium silver rings. Compared to gold, platinum, and titanium (other common metals for men's wedding rings), this type of silver is classically beautiful, similar to white gold, and more affordable, especially if you want a bigger ring or want diamonds.
2. Choose a style. As with metals, there are many to choose from, so considering his needs and style are of upmost importance. Does he feel comfortable wearing a necklace or even a bracelet? If he feels uncomfortable wearing any type of jewelry, a ring with an intricate design might not be best. Instead, consider a plain, classic wedding band with no design elements nor sparkling diamonds or gemstones. Consider milgrain or step-down detailing if you want a little bit more flair that is not too flashy. In the reverse situation, an outgoing guy or someone who feels more comfortable wearing jewelry with a bigger fashion sense might want something flashier as something subtle would fade into the background. Braided rings or scroll design rings are popular styles for men as well as the simpler types.
3. With stones or no stones? Be very careful when choosing a ring set with stones. You may love large diamonds for your fingers, something to really draw the eye and sparkle, but we usually prefer something less extravagant. Black diamonds in channel settings are really the best way to go. These stones provide some visual interest, while still remaining decidedly masculine. If you still want to get a diamond band, then rings with small diamonds are best - but the fewer stones the better.
4. Ask your man what he likes. There's no harm in asking what type of ring design or metal we'd like. Yet, sometimes, I know some of us men have no clue as to what we like and feel uncomfortable in the jewelry department. While keeping in mind the tips from above, gather a few pictures of bands you think we would like, show us, and let us pick. If your man still feels uneasy or clueless as to what he wants, then you just have to take your best guess on what ring to buy.
A man's wedding band doesn't have to break the bank. Silver or tungsten can make handsome rings that will take the abuse of a working man's day to day without emptying your accounts. Really, the most important aspect of the ring is that he feels comfortable in it, isn't it? Wedding rings are a way for you to show each other your love. It doesn't have to be a guessing game. He's your fiancé; chances are, you know him pretty well by now. Just draw on your knowledge of what he wears and what he does for a living. For men, a ring that fits into those two aspects will be exactly what we want.
Visit JewelryVortex' large, fine quality collection of men's wedding bands here.
*******
Related Blog Posts & Guides: Pros & Cons of Titanium Rings, More Tips on Choosing a Men's Wedding Band.