Pros

There are many different reasons that people like the idea of using titanium for their wedding band. After reading more about this contemporary metal's qualities, you may consider titanium as a viable option.
Strong and durable
One of the biggest draws to a titanium ring is that it is highly sturdy. For those who play sports or do any type of physical labor for their job or for a hobby, one of the most frustrating aspects of wearing a gold wedding ring is the fact that it begins to wear down and may even bend over time. Titanium is a naturally durable metal that is unlikely to become damaged. Many people love the fact that they can wear their rings in so many different situations without worrying about it bending or wearing down.
Versatile
Titanium can come in a variety of different colors, ranging from a lighter silver, similar to white gold or platinum, all the way to dark charcoal or black. People who choose titanium rings love that they can select the precise color that they want in a ring.
Strong and durable
They also love that this is one of the most affordable ring options available. You can find many quality and fashionable bands under $100.
Lightweight
Titanium is one of the lightest metals, so these rings do not feel as if they are weighing down your hand.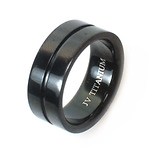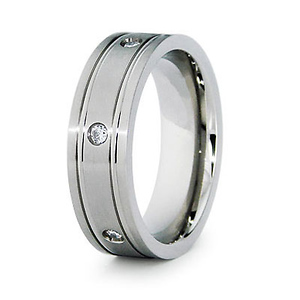 Cons

It is important to recognize that every choice has positive and negative aspects. Understanding the pros & cons can help you decide whether it is the right choice for you.
Not sizable
While a titanium wedding band is extremely affordable, it is also a metal that cannot be resized. For some people, this means that they may need to purchase new wedding bands sometime in the future if their ring sizes change.
No investment value
Titanium is not a precious metal, which is one of the reasons that it is less expensive than other options. That means, it has no investment value like gold and silver and is not traded in the financial markets.
Not scratch-resistant
Unlike tungsten jewelry, as mentioned in our past tungsten ring blog post, titanium is not completely scratch resistant. Although it is very durable and will not likely break or bend, it can get scratches that become permanent, if it is subjected to a certain level of pressure and resistance. Keep in mind, platinum and gold jewelry can scratch as well.