Tungsten Pros

Dense weight similar to platinum
When wearing tungsten rings, they will as if you are wearing gold or platinum. Other contemporary metal rings, such as titanium, are lightweight, compared to tungsten.
Highly scratch resistant
Tungsten is virtually scratch-resistant. No other metal ring compares to its scratch resistance than tungsten.
Hypoallergenic
If you are allergic to gold and silver, consider tungsten, which is hypoallergenic.
Tarnish free
Unlike silver wedding bands, tungsten rings have no tarnish. You can continue to wear these rings for many years without dulling.
Melting point is the highest out of all metals
Tungsten can withstand high heat environments.
Affordable
Tungsten costs much less than gold and platinum, so the price will be cheaper than wedding bands made of platinum and gold. Currently, our tungsten ring prices start at $50, and tungsten wedding rings with diamonds, prices start at $175.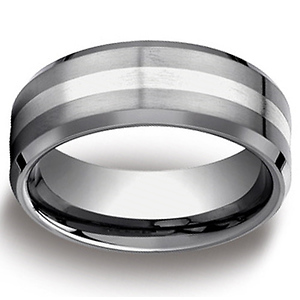 Tungsten Cons

Misconception of tungsten being indestructible
While tungsten is a highly durable metal, tungsten rings can unfortunately break if they were hit with a huge amount of force. Wear these rings in less stressful environments. You can also consider buying Benchmark tungsten rings, which are made with the best craftsmanship and offer a lifetime warranty. If the ring breaks, Benchmark will replace any registered ring free of charge.
Not sizeable
Tungsten bands have no abilities to be resized once they are made. Be sure to pick your correct size when choosing tungsten wedding rings.