Unlike gold and silver, little is known about emerging metals, such as tungsten and titanium, in the jewelry industry. These metals were mainly used to make products in the aeronautical, medical, and other industrial fields for many years and are now expanding into jewelry and more artistic areas. That means that your fashion options are increasing. As these contemporary metals gain m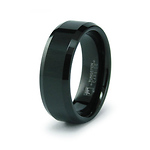 ore popularity in the wedding band jewelry industry, more information about tungsten and titanium rings surface, which unfortunately includes myths. Let's address these myths.
History
Unlike popular belief, titanium is not a relatively new material; it was discovered in 1791 by a gentleman in Cornwall, England. It was given the name, titanium, because it reminded scientists of the Titans, mythological characters in Greece. Tungsten dates back even further – to the medieval period and its name means "heavy stone." This material is considered fragile in its natural form, but German and Swiss scientists developed a method in the late 1700s that turned tungsten into a hard and durable metal, primarily used for industrial purposes.
Titanium and tungsten debut as jewelry
In the 1990s, titanium and tungsten began to appear in the jewelry industry and immediately attracted interest because of their durability and toughness – especially as men's wedding rings. Today, it is possible to find titanium and tungsten rings sold in regular jewelry stores, some high-end jewelry stores, and even in art galleries. Titanium and tungsten come in different compositions which produces different levels of strength.
Grades of titanium:
commercial pure (contains 99.2% of titanium)
aircraft grade (contains 90% titanium)
Grades of tungsten: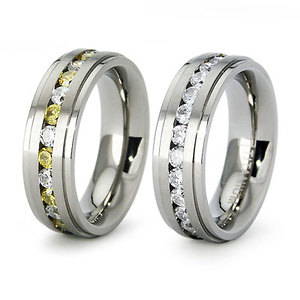 tungsten carbide with nickel (considered the best quality for tungsten jewelry)
tungsten carbide with cobalt (excellent for industrial purposes, not recommended for jewelry)
Both metals come in a variety of styles, finishes, and can be incorporated with gemstones and other designs for a completely unique look.
The myths
Because these two metals are scratch resistant, will not bend, and are highly durable, many people believe that you cannot cut them or resize them. That part is true. Once they are made, they cannot be resized. Exceptions can be made with titanium rings, which can be resized just a little bit with extreme caution, although it is highly unrecommended. I have also heard a theory that this myth came from the fact that in the movie, The Abyss, a titanium ring is used to prevent a hydraulic set of doors from closing entirely. Actually, these rings can be cut off in the event of an emergency with the same tools that ambulance staff and hospitals use for gold rings. Besides worrying about emergencies, some people believe that tungsten rings will never shatter. However, they can shatter if hit with a strong enough force in certain angles. Tungsten is one of the hardest Earth metals, and it has to be shaved and reshaped to form a ring, which makes tungsten's structure different. Compare it to gold, which can dent and titanium which can scratch. Therefore, there is no reason to be concerned if you are considering a titanium or tungsten wedding ring.
*******
See Related Blog Posts: Tungsten Rings Pros & Cons, Pros & Cons of Titanium Rings